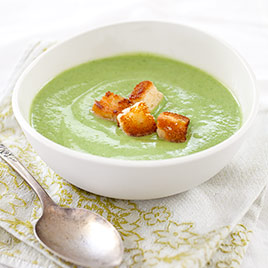 This recipe is from From
America's Test Kitchen
Season 12. Dustin loved this soup, I made it for dinner on Halloween I thought the green soup would be fun and some vegetables before all the candy was a good idea.
I like to know why certain things work when we cook so I thought you also might find the following info interesting. Overcooked broccoli has a sulfurous flavor, but we discovered when we cooked our broccoli beyond the point of just overcooked—for a full hour—those sulfur-containing compounds broke down, leaving behind intense, nutty broccoli. Its texture was fairly soft, but that was perfect for use in a soup. Adding baking soda to the pot sped up the process, shortening the broccoli's cooking time to a mere 20 minutes. A little spinach lent bright green color to the soup without taking over the flavor.

Ingredients
2

tablespoons

unsalted butter

2

pounds

broccoli

, florets roughly chopped into 1-inch pieces, stems trimmed, peeled, and cut into 1/4-inch-thick slices

1

medium onion

, roughly chopped (about 1 cup)

2

medium garlic cloves

, minced or pressed through garlic press (about 2 teaspoons)

1 1/2

teaspoons

dry mustard

powder

Pinch

cayenne pepper

Table salt

3–4

cups

water

1/4

teaspoon

baking soda

2

cups

low-sodium chicken broth

(see note)

2

ounces

baby spinach

(2 loosely packed cups)

3

ounces

sharp cheddar cheese

, shredded (3/4 cup)

1 1/2

ounces

Parmesan cheese

, grated fine (about 3/4 cup), plus extra for serving

Ground black pepper
Instructions
1. Heat butter in large Dutch oven(I don't own one so I used a regular pot) over medium-high heat. When foaming subsides, add broccoli, onion, garlic, dry mustard, cayenne, and 1 teaspoon salt. Cook, stirring frequently, until fragrant, about 6 minutes. Add 1 cup water and baking soda. Bring to simmer, cover, and cook until broccoli is very soft, about 20 minutes, stirring once during cooking.
2. Add broth and 2 cups water and increase heat to medium-high. When mixture begins to simmer, stir in spinach and cook until wilted, about 1 minute. Transfer half of soup to blender, add cheddar and Parmesan, and process until smooth, about 1 minute. Transfer soup to medium bowl and repeat with remaining soup. Return soup to Dutch oven, place over medium heat and bring to simmer. Adjust consistency of soup with up to 1 cup water. Season to taste with salt and pepper. Serve, passing extra Parmesan separately.